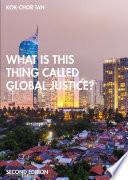 What is this thing called Global Justice?
Author: Kok-Chor Tan
Number of pages: 216
What is this thing called Global Justice? is a clear and engaging introduction to this widely studied and important topic. It explores the fundamental concepts, issues and arguments at the heart of global justice, including: world poverty economic inequality nationalism human rights humanitarian intervention immigration global democracy and governance climate change reparations health justice international justice. This second edition has been updated throughout and includes two new chapters: on ethical and moral debates concerning reparations and on global health justice. The chapters on world poverty, human rights, just war, borders, climate justice, and global democracy have also been substantially revised and updated. Centered on real world problems, this textbook helps students to understand that global justice is not only a field of philosophical inquiry but also of practical importance. Each chapter concludes with a helpful summary of the main ideas discussed, study questions and a further reading guide.