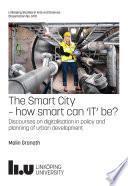 The Smart City – how smart can 'IT' be?
Author: Malin Granath
Number of pages: 226
Cities are facing many challenges; challenges linked to world-wide trends like urbanisation, climate changes and globalisation. In parallel to these trends, we have seen a rapid digitalisation in and of different parts of society. Cities and local governments have been appointed an important role in overcoming these world-wide challenges, and subsequently, in policy practices digitalisation is perceived as an important dimension in delivering better and sustainable services to its citizens. As a result, the smart city has emerged as a concept and approach to contemporary urban planning and development. There is still no common understanding of the concept and what components and dimensions it covers. However, in all definitions digitalisation constitutes one dimension, but the role and function of it is still not clear. In this study I have examined how different stakeholders talk about digitalisation in policy and planning practices of urban development. The aim has been to identify and analyse different repertoires of discourses on digitalisation to advance our knowledge on how goals related to the smart city and digitalisation are put into practice. The results are based on a...